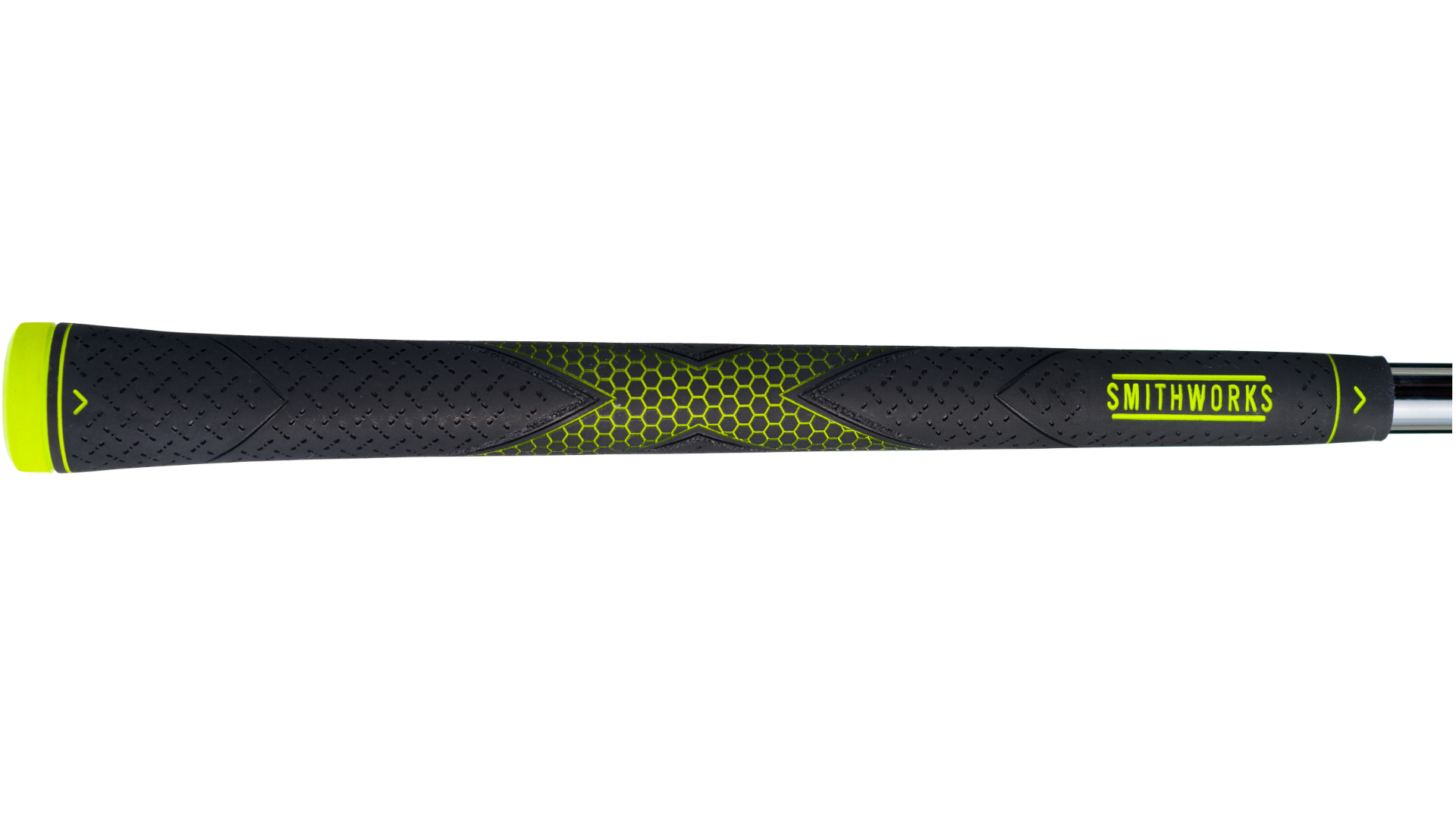 Introducing Smithworks Xspin Laser Milled wedges.

For those of you who have our Smithworks wedges and love the control, feel and spin and for those who haven't tried them yet, we've made the best controllable wedges in the world, even better.
Guaranteed to bring the most fun to your short game. The new Xspin range offers even more control and spin than ever before.
Each xSpin Laser Milled wedge produces elite level spin and control around the greens. 

Note: SmithWorks Laser Milled Wedges can be used in any sanctioned event or tournament/competition play.
✔️ Cold Forged from High Carbon Steel.
✔️ Cast milled Super X for extra adhesion and spin.
✔️ Unique ceramic blast finish.
✔️ Improved Vertical Balance® face technology.
✔️ Larger Weight distribution cavities, unique to each loft.
✔️ Full face grooves.
✔️ Shorter weight reducing hosel.
✔️ Fully CNC milled sole for flow-through impact on all surfaces.
✔️ Precision grooved face for maximum spin.
Note: If its extreme spin you're after, check out our Cast Milled Wedge.
Laser Milled 2.0
The most fun, conforming spinning wedges on the planet.
We've been grinding it out to construct superior models that generate even more spin, are more forgiving, offer better distance control and shot versatility.
SMITHWORKS XSPIN FEATURES:
Introducing
Bigger weight distribution cavities.
By taking more weight away from the sole, this generates greater Vertical Balance® creating better distance control and spin.
Larger face striking area.
A larger face striking area and Vertical Balance® sweet spot makes each club even more forgiving.
Fully milled sole.
The bigger, wider tour grind sole increases  glide through turf & sand interaction on all shots.
This offers more shot versatility around the greens.
Super fine ceramic blast.
And full face cast Super X's for greater ball adhesion, more control and spin.
Higher CG
More weight removed from sole and added to the top line, creating high and low weight distribution for greater Vertical Balance®, facilitating more control and spin.
Learn more
Super soft, high carbon steel.
Higher blade weight distribution, featuring a shorter, weight reducing hosel for long lasting maximum spin performance round after round.
Love the laser milled wedge, it is as "spinney" as the cast version. Lovely weight and feel when hitting the ball. The spin factor encourages you to really attack pins with full shots. I'd recommend this wedge over any premium wedge available!
I've had my Laser Milled wedge for over a month and I love it. This is the best wedge I have ever played with. It feels really comfortable, solid when addressing and hitting the ball. I've been playing golf for over twenty five years and this got be one of the best wedges I've played with.
What to expect with Laser Milled Wedges
Generate seemless backspin like a tour pro.
Precision shots around the greens
Fast worldwide shipping
We send every Smithworks wedge out express delivery so you get yours within 24-48 hours!*
Secure Payments
Payment Card Industry Data Security Standard (PCI DSS) and 3D Secure checkout.
Get in touch
Reach out to the SmithWorks team anytime if you have any questions before you buy.